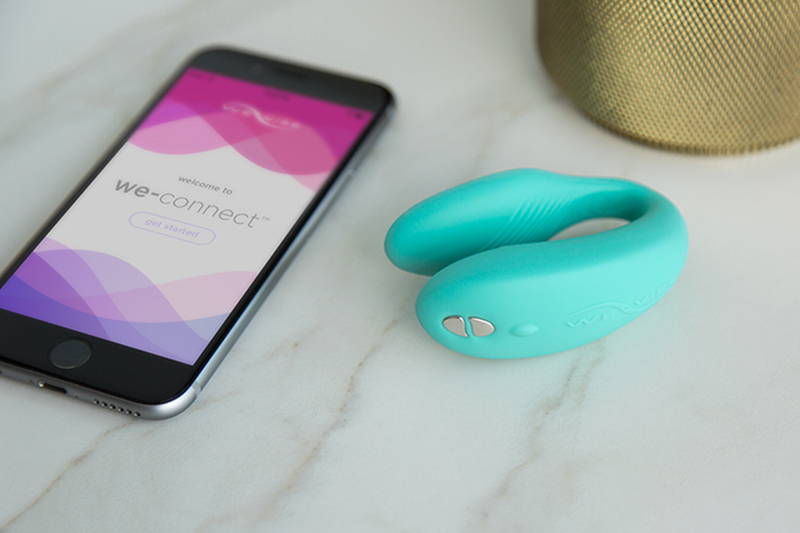 Apps are used in all aspects of our lives, so why not let them enhance your sex life as well. You may be thinking, "Why would I need a vibrator that uses an app?". Well, an app is a way to enhance your vibrator experience by giving you even more features and options to help you reach an amazing orgasm. Most apps let you control the speed, and vibration modes. But, many also offer extra features that you may not get without the app. You can create your own custom vibration patterns, or even control the vibrator from accross the world. Let's take a look at some of our favorites.
The first vibrator we would like to mention is the Umie vibrator from Tantriss. This vibrator has a variety of features even before you start using the vibrator's app. It offers a heat feature, which makes it feel more life like. It's ergonomically designed, and offers 360 degrees of vibration. It is waterproof, and charges quickly. Once you use the app, you get even more fun features. Make the vibration modes match the music you are listening to, or have your partner shake the phone to create a custom vibration. You can also draw your vibration modes on the app, so you can just just the pattern that turns you on the most.
One of the top app enabled vibrators we sell is the We-Vibe Sync vibrator. This one is awesome for couples to use, both with and without the app. This vibrator comes with the option to use either the We-Connect app, or the included remote control. This unique vibrator is worn inside the woman during sex. Both partners get pleasure from using this app enabled vibrator. We love that it offers both G-spot and clitoral stimulation, and that is can be used during sex. It comes in both purple and aqua. The app also allows you to control it from accross the world, and create your own vibration modes.
The Bloom Kegel Balls are app enabled Kegel exercisers. You probably already know that you should be exercising your vaginal wall muscles, and this little Kegel exerciser and vibrator combo helps give you motivation to get started. It gives you some different weight options to slowly build up your strength. This helps to tighten and firm your vagina. This little vibrator is from We-Vibe, so it also uses the We-Connect App, which gives your partner control of the vibrations, even when he or she are away on a business trip. It comes with 10 preset vibration modes, but the possibilities are endless when you use the app to create your own vibrations.
This little clitoral vibrator is small and discreet, which makes it perfect for travel. The Wish Clitoral Stimulator is great for external stimulation. Take it when you go away on business, so your partner can still help you have an amazing orgasm from home. The fun part about the We-Connect app, which this vibrator also uses, is that you can create the perfect vibration mode that you know will get you to orgasm. Obviously, each woman has different vibration needs, and the We-Connect app helps you create exactly the vibration that will help you reach orgasm quickly. Besides using this during foreplay, you can place it between you and your partner while riding on top to help you reach orgasm during sex.
The next app enabled vibrator is similar to a rabbit vibrator, but even more versatile and powerful. Even without using the app, the Nova vibrator is a classic favorite. This vibrator gives you both G-spot and clitoral stimulation, so you can orgasm quickly and all on your own. Add the app, and you can have your partner help you reach orgasm even when he or she is out of town. The body flexes to adjust and fit your curves, so it will hit your G-spot and clitoris just perfectly. It's rechargeable, made of silicone, and waterproof to round out the features of this versatile little vibrator.
Cock rings are often low tech, but the Pivot Cock Ring is the exception. It is a cock ring that helps give both partners pleasure. When your man wears it, the rumbly vibrations of this app enabled cock ring help you reach orgasm during sex. Use the app to create the perfect vibration mode that fits your needs, or make it follow the beat of the music you are listening to during sex. Whatever way you choose to use this cock ring with an iPhone or Android app, it will be sure to give both partners pleasure. Plus, it's waterproof, so you can bring this into the shower or bath with you.
The Ditto Anal Plug Vibrator has awesome features. It is easily controlled by a free app, but can also be controlled via remote control as an easier option if you are in the same room as your partner. This is one of the few anal plugs that gives you the option of creating custom vibrations to help you reach orgasm in your own individuallized way. Use the app to create vibrations based on the sound of your partner's voice, or to make the beat of the music you are listening to. This anal plug is on the smaller size, so it's great for couples who want to begin to experiment with anal toy play.
These are just some of our favorite app enabled vibrators, but there are plenty more, so check out our selection of app enabled vibrators. You can get the free iPhone or Android apps to help you enhance the fun you have with these vibrators. These app enabled vibrators offer the perfect solution to help you and your partner stay connected, even when you are far apart.